By
Mythman
- Sun Mar 25, 2007 7:53 pm
- Sun Mar 25, 2007 7:53 pm
#567970
On Thursday the 22nd, I met with PatMax, a Hill Country TKF'er and we paddled the
Llano
river
. We put in off of Ranch Road 2389 and paddled to Simonsville Road bridge about a 5-6 mile
paddle
. The weather was cloudy and threatened rain all day but it didn't dampen our sprits.
Here is PatMax at the launch.
And I am ready to get started.
When we launched we had a very small fast water to negotiate and then we hit a long, deep pool. There were high rock bluffs.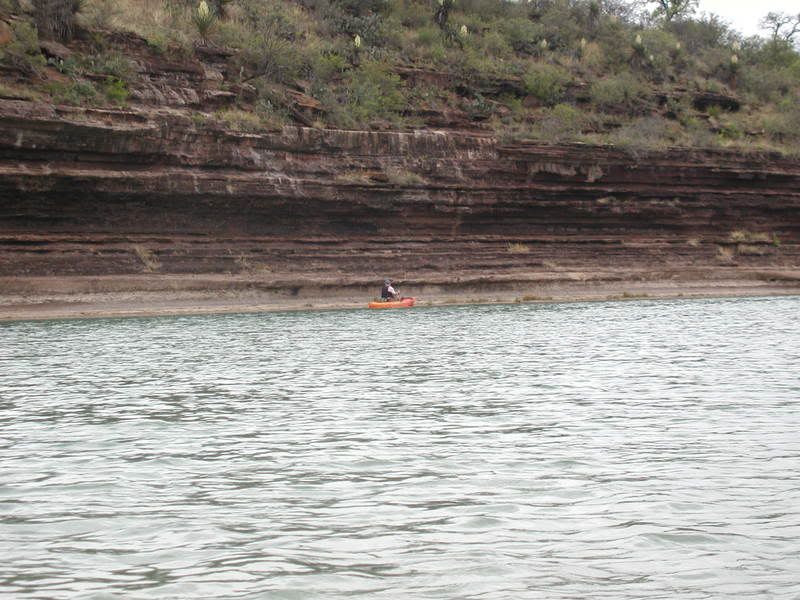 We saw 6-10 houses over looking the water and here it one.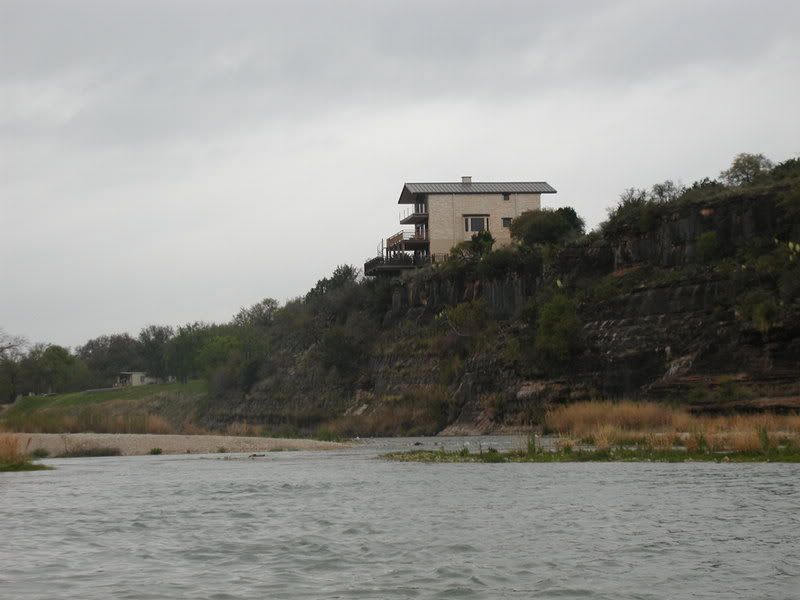 After paddling about ¼ mile, we decided to swap kayaks as I wanted to try out the Prowler Big Game. Here is PatMax in my X-Factor.
My evaluation of the PBG will have to be another post. We swaped back and here is PatMax in his PBG.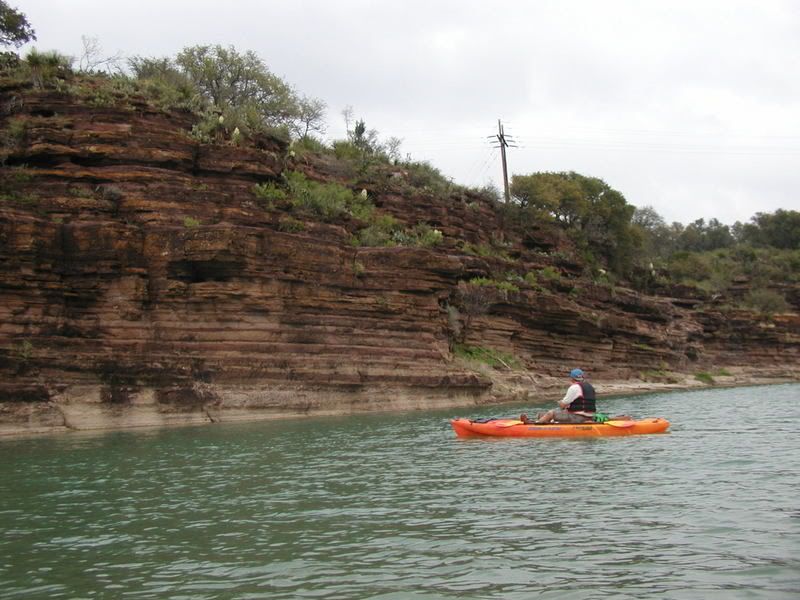 Paddling a little farther we see a bunch of buzzards roosting in tree and rock ledges. How many can you find in this pic?
Although fishing was not the primary objective of this
paddle
, we did throw a few arties……here is PatMax with a huge
Llano
river
bass.
I caught about three fish and PatMax caught about 6. None were keepers…..but like stated above, fishing wasn't our objective.
As we were fishing, I thought I heard a goose. I thought it must be a domesticated goose but as we paddled down the
river
, a wild Canadian goose flew off of a point of land and landed on a rock in the middle of the
river
. Can you see her (about on line with the
river
bank)
I paddled over to where the goose flew up and found her nest. The water was very deep at the end of this point of land so I had to sit in the kayak and hold my camera over my head to take a picture…..but here is a goose nest with a clutch of goose eggs. Can you see the down feathers lining the nest?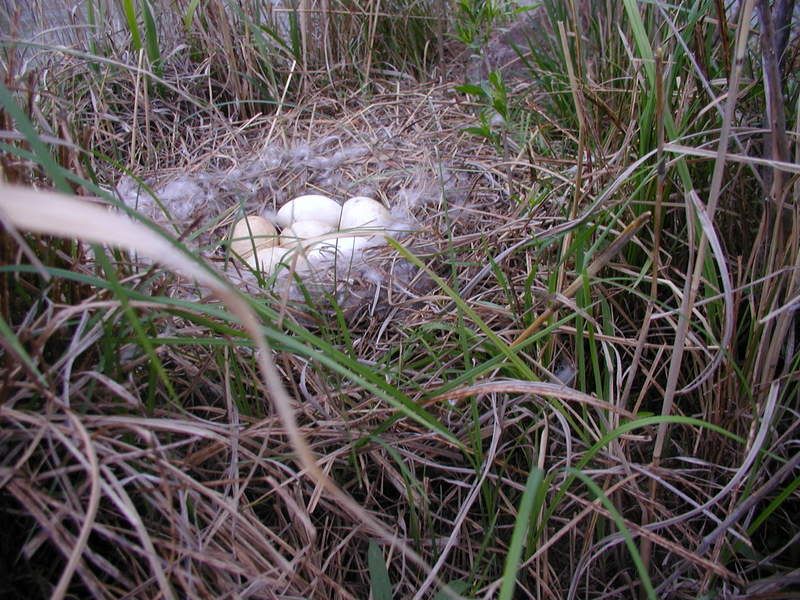 As we paddled by the goose flew over us and back to her nest. This was amazing, I never imagined a Canadian goose nesting and raising a brood in the wild of the Hill Country of Texas.
A little ways past the goose next we come to about a 40 foot drop with a very fast chute draining most of the
river
.
We chose not to
paddle
down and found a shallow, skinny water down and walked our kayaks down. Soon after that we took a lunch break and here are the X & BG resting during lunch.
After lunch, we paddled through some of the most beautiful part of the trip and I was in so much awe, that I didn't take many pictures ( to be truthful it was thundering and I was paddling fast to get on down the
river
or to a place of safety). Here is one of a deer blind on the horizon.
To me the most beautiful spot was where Panther Creek flowed into the
Llano
and you
paddle
past the HL Bluffs. The rock bluffs were a total catacomb of holes and crannies and you got the true idea of what an aquifer is.
Then we hit this long, deep pool and must have paddled ¾ of a mile in this pool. We past this house and later found out the original owner was the author of "Old Yeller", the Disney movie of the yellow dog!
About ¼ mile from the take out we pass this hill with the cross on it. I thought it was worth a picture.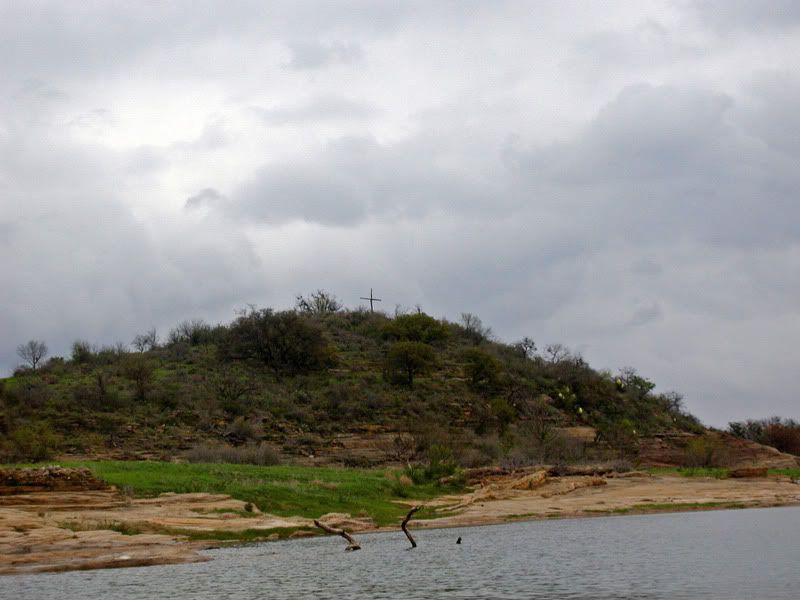 It took us 6 hours to
paddle
the 5-6 miles and I would guess we had skinny water maybe all total of a mile.
I am going to do the trip again and had a great time paddling with PaxMax and now I need to get him down to the coast to catch some big salt water fish.
Last edited by
Mythman
on Mon Mar 26, 2007 9:11 pm, edited 2 times in total.