- Fri Dec 24, 2010 8:59 pm
#1569411
Just finished testing out the new rudder for the ultimate 12. Gander mountain had a few on sale for $50 (regular $179), but they were not the native rudders so I had to build a bracket to mount it. The bracket cost all of $10 so that puts the total cost at $60 rather than the $300+ native asks. It works GREAT with the motor I mounted a year or so ago!! Did ~4.5 miles today on a local bayou just cruising on high. Average speed was 3.3 mph and I never touched the motor or the paddle. Going to ba awesome for hands free trolling banks while fishing! The lowest speed is a bit fast for my liking, but thats about the only negative. The battery showed ~75% capacity remaining when I hooked it to the charger afterward.
Total time/Cost for the upgrades was:
Motor ($100), mount (free), battery($60), etc - $180/2 hrs
Title/Registration - $50/0.5 hrs + $27 every 2 years (not a hassle at all)
Rudder - $60/1.5 hrs
Total - <$300/4 hrs
Sorry for the quality but all were shot with a cell phone camera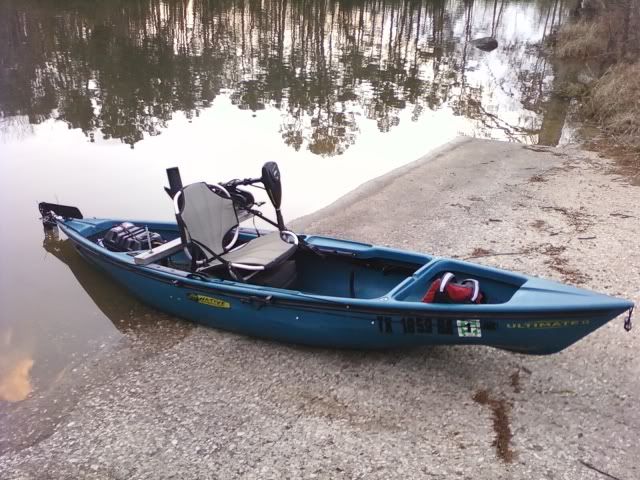 Last edited by
FishingSETX
on Fri Dec 24, 2010 9:27 pm, edited 1 time in total.