By
fishtl1
- Sat Aug 15, 2009 8:19 am
- Sat Aug 15, 2009 8:19 am
#1324793
Again my normal disclaimer: If you don't like to read, stop here.
Many times in preparation for a fishing adventure, the planning of the trip, organization of tackle/gear/rods, and creation (and check and then re-check) of an itemized checklist are what helps to build for the excitement and anticipation. Frequently if you are lucky, the results match or exceed the expectations and make you yearn for the next adventure and repeat performance. However, sometimes the actual events of the adventure do not follow script and deviate from the path originally pre-conceived.
After having experienced 2 prior trips on the Brazos with the initial encounter based upon the tutelage of YaknYota, we again yearned to get on the water to experience the beauty that the Brazos has to offer. Discounting the triple digit weather and lack of Stripers in Shane's published reports, we still wanted to go and do a pack/fish trip. A couple of the prior companions Knot at Work (that lame, "I have a job" excuse) and Angler_Josh (ball and chain factor) weren't able to make it but fortunately, John L and CatchnKeepers filled the roster and plans started weeks in advance. Maybe this warning sign exchanged during our PMs on the forum ruined the chance of a reunion of the encounter I had described in prior reports.
And thankfully, John L and CatchnKeepers had no plans for playing the surrogate…BaffinBay and my target species on the Brazos tends to be Stripers and Catfish as I personally do not have an affinity for those green "skip-on-the-surface-fish" called "Largemouth Bass".
Plan was solidified to float from the 16 to the 4 while utilizing Rochelle's Canoe Rental service to drop off upstream. Cars would be parked at their site and we would paddle down without the need to paddle back up with gear against the current and potential threats of wind. Conceptually, it sounded like a better plan. I had my OK Scupper Pro, BaffinBay had "The River Queen", John would rent an aluminum canoe, and CatchnKeepers would rent a Sit in 2 person Kayak. We would have plenty of room to pack gear. We would paddle down and fish 3 areas we had fished before before camping for the night. Day 2 we'd try to paddle far enough and camp so that hopefully, we would be able to do a little fishing on Day 2 and Day 3. I was wanting to get back to Rochelles by 1:00 PM but no later than 3:00 so that I could make it back in time for my soccer coaching duties. Well atleast that was the initial plan…
As we had learned from prior trips, bait preparation was ultra important. Our modus operandi on all of our fishing trips seems to be to gather an abundance of different bait types so that we can be ready for whatever wets the fish's appetites. We passed on Black Saltys but had live bluegill and shad ready to go in our tanks. Additionally, we would net the natural forage of these river fish by getting those minnows that run in the riffles and the other bait that I was calling "fathead minnows" (not sure if that is accurate) which tend to inhabit slower moving, warmer water shallows.
Plan included camping 2 nights so that meant we needed to collaborate on our individual camping gear as well as that which would be communal in nature. Since weight bearing load had to be considered in our kayaks/boats, minimal yet sufficient amounts of items would have to be considered. Cooking gear, firewood, etc. would be brought down. Paddling down to the initial site wasn't the problem but further packing, transporting, and rowing would be a challenge and BaffinBay and I had never done a 16 to 4 trip. My sleeping arrangements would again be my chair and mosquito netting and while I'd bring some food/snack items just in case, I was hoping to live off the land in terms of my bigger meals.
My fishing tackle was trimmed down a bit (only 5 rod/reel combos this time) with the though of more drift fishing besides the Day 1 trolling and night bank fishing. Historical reports on this board tended to narrate stretches of water that were devoid of stripers downstream and other than the phantasmagorical pictures that YaknYota had published of the glorious Flathead Catfish, I figured I could only dream of such a catch and would realistically be targeting lesser desired species. The beauty/scenery would be my bounty. I would be bringing my fish finder this time on the trip to check out certain depths in fishy-looking water. My newly rigged battery pack would be tested for the first time and a separate battery pack would power up my bait tank.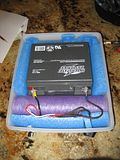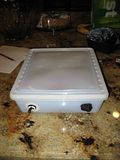 Sunday, August 9
5:45 am BaffinBay makes the hour drive to meet at my house and load the kayak and my gear. Drive from my house would be about 1.5 hours to the 16. BaffinBay and I dropped off our gear/boats at the 16 first and while I waited with the gear, he would drive to Rochelles to meet John L/CatchnKeepers. Bluegill made the prior night were still kicking but the Threadfin and Gizzard shad would have to be cut bait. This time I brought my bait tank and was able to keep them alive without having to employ a bait keeping apparatus that would create drag in the water.
While they were doing their thing en route to/from Rochelle's, I netted some of the targeted minnows and was able to meet some other TFFers like Warrick (and a couple others which I forgot their names). Nice to meet you guys and I hope we can fish together in the future.
9:45 am they arrived and we proceeded to offload their gear into the water. Plan was to float to "the cove" and catch some minnows on the way. Hopefully we'd get a couple stripers out of that first spot. Catching minnows was highly productive but trolling for stripers wasn't on for us. There were a couple blow ups on the baits but nothing to show for it except for 2 of those "green-skip-on-the-surface" fish that I caught and released. One was a 4 lber though that engulfed a live bluegill of decent size.
We paddled to our next spot in hopes of netting some shad for the 3rd spot. Just like our last trip, we were unsuccessful in our attempts and we would be empty in our fish holds with the candy bait. Fishing this area was also mainly uneventful with perhaps a couple gar hitting our bait.
Making it to the main "Striper Channel" would be our last stop and we would also make camp here much like we did on our prior trip. (Sorry for the poor quality pictures. I take my ancient camera on these trips.)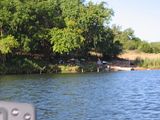 Weather was nice with minimal wind and it made for some nice trolling runs that led to myself, John L, and CatchnKeepers hooking/landing some stripers. I believe this was CatchnKeepers first Striper to date!
No whoppers to mention but thus far, the trip was proceeding nicely with no hiccups. No shotgun blasts of water snakes although they were continually present and not shy in making a close appearance. If Josh had gone, we would have seen this again (inside joke since last time Josh saw a snake, I swear he tried to run on water to get away from it):
Tired from a full day and early start, I was too beat to fish the night catfish bite that had been so successful last time. Weather was great and I didn't even need my fan to make it comfortable. In fact, it was a bit chilly in the morning to me. The marauding racoons woke us all and they were able to defeat us at times by consuming some of the baits that the fish didn't seem to have a proclivity for that day. Bugs weren't too bad either although when I awoke, I had large ants and several spiders trying to get in. Luckily the netting worked.
(To be continued)